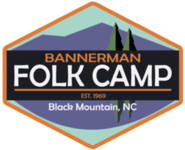 Website: https://www.bannermanfolkcamp.com/.
Information: The Bannerman Folk Camp is a holiday tradition featuring contra and folk dance classes, live music, recreation, crafts, hiking, outdoor games, puppet shows, and storytelling.
Here is a rundown of a typical camp day schedule:
- Breakfast
- Family Time: All-camp dancing, games, and songs
- Break out: Adult / Youth / Children's Classes
- Lunch
- Afternoon Free Time – Options for: Sightseeing, Crafts, Outdoor Games, Special Workshops, Hiking, Clogging Classes, Advanced Dance Classes
- Cooking Classes
- Dinner
- Family Time: All-camp dancing, games, and songs
- Fireside Time: Live music, ice breakers, stories, puppet shows and more
- Adult and Youth Evening Dance Party
Special Events:
- Barn Dance with Clogging Performance on Friday Evening
- Theme Party on Saturday Evening
- Live Music from local & touring artists
Nestled in the beautiful Blue Ridge Mountains of North Carolina it truly is a fun filled, relaxing, inspiring weekend for all ages. The camp is held in November/December.