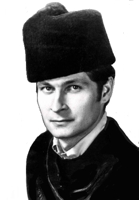 Information: A dance.
Boris Karlov, the famous Bulgarian accordionist, recorded this Macedonian tune in the early 1950s. Anatol Joukowsky learned a dance to Bavno in Macedonia, 1930-1940, and taught it in the United States in 1955. Our version was learned by Dennis Boxell in London in 1961 and taught by him to the United States folk dancer in 1962.
Translation: Slow dance
Pronunciation: BAV-noh OH-roh
Other names: Makedonsko Bavno horo, Snošti Sakav (Da Ti Dojdam).
Region: Macedonia
Meter: 7/8
Rhythm: Counted 1 (slow), 2 (quick), 3 (quick) in the first 2 parts, and 1 (quick), 2 (quick), 3 (slow) in the last part.
Formation: Line, leader at R end followed by other men, seperated from (yet joined to) women by a kerchief. Hands joined at shoulder height. Free hands on hips or waving kerchiefs.
Anecdote: Bavno originally was danced as a Lesnoto, without the second step for the slow melody.