Tom grew up in Portland, Oregon, where he started folk dancing as a teenager. He fell in love with folk dancing and music and began collecting what was to become a vast compendium of dance recordings and meticulous dance notes. By the time he was seventeen, he began teaching folk dance classes of his own.
Tom moved to Seattle to join Koleda and attended the University of Washington College of Architecture. In 1976 he took his first study tour to Macedonia and traveled around Greece and the other Balkan countries.
Tom taught and performed Balkan dance in the Northwest. After a short tenure with Seattle's Koleda Ensemble, he helped found the Radost Folk Ensemble in 1976, with which he performed until 2018. He also dance mastered and soloed in a Macedonian Suite choreographed for Radost by Atanas Kolarovski in 1979, and performed with the Ensemble from 1979 to 1987.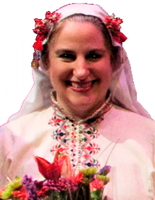 Tom was married to Sidney and the couple has a daughter, Anya.
He taught a regular advanced Balkan dance class for many years and taught Macedonian and Bulgarian dance at local festivals. Tom also played Macedonian, Serbian, and Bulgarian music on tûpan and darabuka or doumbek with Orkestar RTW (the RTW stands for Radio-Televizije Washington). He went to the Balkans four times: in 1976, in 1981 on a performing tour with Radost, in 1991 with Mary Sherhart, and in 2010.
Tom had several collaborative projects with The Cabiri, staging and performing mythological stories and rituals from the Balkans such as "The Dance of the Călușarii."
Beginning in 2008, Tom created an incredible website venture, Folklore Discography, with albums by region, or label, or tracks, or artist, including recent updates. Countries or areas listed are for Albania, Armenia, Assyria, Azerbaijan, Balkan, Belly Dancing, Bosnia, Bulgaria, Croatia, Czechoslovakia, Egypt, Folk, France, Georgia, Greece, Hawaii, Herzegovina, Hungary, India, International, Ireland, Jazz, Jewish, Kosovo, Macedonia, Montenegro, Poland, Romania, Russia, Serbia, Slovakia, Slovenia, Spain, Turkey, Ukraine, Yiddish, Yugoslavia, and Zimbabwe.
In 2017 and 2018 he taught week-long folk dance and choreographic study workshops with Los Angeles Ballet.
Tom passed away in 2019 due to a bout with terminal cancer.