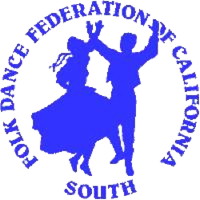 Website: https://fallcamp.org/.
Information: A California folk dance camp (2019-present).
In April 10, 2019, an international folk dance camp named "Fall Folk Dance Camp (in Honor of Beverly and Irwin Barr)" was formed in Southern California and supported by the Folk Dance Federation of California, South, Inc. The name was later changed to Fall Camp.
The camp features dance parties plus teaching of favorite Stockton Folk Dance Camp dances for the year. You're invited to spend time with old friends and make new ones in a beautiful setting.
The weekend includes two nights lodging, five meals, a wood dance floor, and leisure dancing. Other optional activities include a poetry workshop, crafts, a morning hike, highlights of the night sky, and the opportunity to participate in a "potluck band," either by singing or playing an instrument.
Fall Camp is held at the Brandeis-Bardin Campus of the American Jewish University about 40 miles northwest of Los Angeles, near Simi Valley, California in November/December.