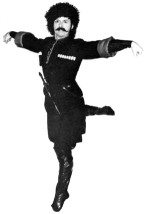 Graham Hempel studied folk dance and ballet in Santa Barbara and San Francisco, California. At the age of 17, he performed with San Francisco's Cosmopolitan Opera Company.
In 1957, he attended the Santa Barbara Folk Dance Conference on a scholarship where he met Anatol Joukowsky. Two years later, Graham moved to San Francisco to study with Joukowsky, the San Francisco Ballet, and the Academy of Ballet. He performed the role of "Trepak" in the Pacific Ballet production of "Nutcracker" for three seasons. While in San Francisco, working a day job as an office boy, he would study ballet in the evening and perform with Joukowsky's Dance Guild, the Russian Folk Dance Group, the Russian Folk Chorus, Pacific Ballet, and the San Francisco Ballet. After seeing the Georgian State Ensemble perform in San Francisco in 1960, Graham set out to learn this form of dance and by 1968 was able to perform it "on toe."
In 1968 and 1970, he performed with New York City's Don Cossack Chorus as a soloist during two three-month tours. Graham later became an Assistant Choreographer for Vladimir Profilov's Russian Folk Dance Group. In 1971, he directed his own performing group, the Khadra Ethnic Music & Dance Ensemble, which became a company of 35 dancers and musicians that presented concerts around California. After 1972 he taught in excess of 100 master classes, weekend workshops, and weeklong camps all over the United States and Mexico.
In 1978, he moved to Los Angeles, California, and joined the famed AMAN Folk Ensemble as a soloist and choreographer. Graham is one of a handful of American men (including Vince Evanchuk) who developed the art of dancing on his toes in the folk tradition of the men in the Republic of Georgia. He has performed solo on the stages of Los Angeles; Dorothy Chandler Pavilion, San Francisco's Opera House, New York's Brooklyn Academy of Music, and San Diego's East County Performing Arts Center. He has also appeared on television in San Francisco, Oakland, and the Republic of Georgia, and been interviewed on radio.
In 1979, after having taught part-time at colleges in San Francisco and Los Angeles, Graham was offered a full-time teaching position at San Diego State University where he taught practical and theoretical dance courses in folk, ballroom, ethnology, pedagogy, and history as an associate professor of dance in the School of Music & Dance. He was recognized as an Outstanding Faculty Member at SDSU. Graham published seven dance research articles.
In San Diego he founded the San Diego Folk Ensemble, a group of thirty dancers and musicians who presented concerts around the region from 1983 until 1990.
In 1989, Graham completed a course of study with the Georgian Music Society in Tbilisi, the Georgian Republic. Graham also researched dance in the Applachians, the Georgian Republic, and the former Yugoslavia. As a choreographer, Graham had nearly fifty choreographies to his credit.
Graham received his Master of Arts degree from the San Francisco State University in Creative Arts Interdisciplinary - Dance. Before coming to San Diego State University, he taught at San José State, San Francisco State, Dominican College, and Cerritos College. Among dance students and dancers alike, he was known for his concise and helpful teaching and for making dance accessible to dancers of all ages at all levels. In addition to his folk and ethnic dance specialization, he had training in many other dance forms, such as ballet and ballroom dance, and taught a diverse array of both technique and theory.
He taught Dance History and Dance History I, Introduction to Dance, Dance in World Cultures, Pedagogy fo Folk and Ballroom Dance, University Dance Company, Workshop in Folk Dance Production, Survey of Dance Notation, Ethnic Dance Forms, Hostorical and Contemporary Social Dance, Beginning Folk Dance, Intermediate Folk Dance, Advanced Folk Dance, Clog Dancing, Russian Folk Dance, Beginning Ballroom Dance, Intermediate Ballroom Dance, Beginning Ballet, Dance Internship, Special Studies in Dance, and a graguate course in Dance Ethnology and Research.
Graham made his debut as a contra dance caller with the San Diego Folk Heritage in 1994. Graham was known for creation of exciting programs suited to dancers at all levels, and clear and confident calling. From 1994 he called more than 145 complete evening programs. While he mostly called dances in San Diego, he was invited to call in Berkeley, Sacramento, San Luis Obispo, Long Beach, Anaheim, and in Prescott and Flagstaff, Arizona. Bands that he worked with included Au Contraire, Cobblestone, Continental Drifters, Crossroads, Flight Path, Growling Old Geezers, Hey Wire, Hot Asphalt, Jump Fingers, Kitchen Junket, Lime in the Harp, The More the Merrier, The New Lost Melody Boys, Old Twine String Band, Paddy O'Furniture, Ranting Banshee, String Theory, the Swamp Mamas, The Usual Suspects, Vista Social Club, and Watermelon Pie.
In 1998 Graham was diagnosed with severe osteoarthritis in one hip and both knees, and has had them surgically replaced. Graham believed in remaining active and taking life's changes as they came along. He also loved playing chess, watching old movies, cooking, and hiking.
Graham continued to be known for his expertise in folk dance by performing arts and folk dance organizations throughout the United States that have enlisted his advice as a master teacher and consultant.
Graham passed away December 10, 2022 at the age of 82.
Dances Graham taught include Bela Rada, Bitoljka, Boulba, Delčevsko Horo, Dnolucka Truska, Georgian Men's Dance, Kak u Kluchika, Kartuli, Kartuli Tsevka, Kolinke-Osamputka, Kozachok, Misnjaca, Mom Bar, Nashey Katia, Simdi, Šumadijsko Kolo, Tapkalica, Treskavica Sitna, and Treskavica Okolo.