---
---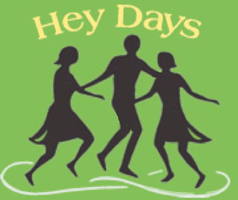 Website: https://www.bacds.org/camps/.
Information: Hey Day holds classes in historic and contemporary English country dance, ritual/display dance, and song with live music.
They promise a program that will challenge and delight both new and experienced participants complete with campers' night, pool parties, and a daily gathering for campers and staff to share hidden talents.
Hey Days is held at Sonoma State University in the scenic wine country of northern California in July.
---
This page © 2018 by Ron Houston.
Please do not copy any part of this page without including this copyright notice.
Please do not copy small portions out of context.
Please do not copy large portions without permission from Ron Houston.
---