Athan, born in Thesaloniki, Greece, on September 22, 1927, was a well-known authority on and performer and teacher of Greek folk dance. He was lead dancer with Panegyris Queen Frederika, the National Dance of Greece Ensemble, under the direction of Dora Stratou. Athan's instruction explored the various styles of Greek folk dance, covering the many provinces and the islands of the Agean and Ionian Seas. His teaching investigated the music and dances as an integral part of Greek cultural expression. He continued to teach regularly at such venues as the Basil P. Caloyeras Center for Modern Greek Studies, St. Nicholas Greek Orthodox Church, and the California Traditional Musical Society (CTMS).
Athan joined the Coast Guard and was subsequently sent to the South Pacific. Although he couldn't talk with the natives, he communicated by dancing with them.
With Rudy Dannes (who died on April 1, 1990), Athan was instrumental in the continuation of The Intersection Folk Arts Center (originally The Intersection Folk Dance Center) in Los Angeles in 1965. For many years, The Intersection was the premier location for folk dancing in Southern California. Many celebrities came to dance there, including Marlon Brando, Bo Derek, Ginger Rogers, Telly Savalas, and Omar Sharif. (Athan carried on the tradition by founding the Athens Intersection in the Plaka area below the Acropolis.) The Intersection closed on December 31, 1984, with a huge New Year's Eve Party.
Athan traveled the United States, teaching and lecturing in major cities and conducting seminars and workshops at many of the leading college and university campuses. He presented several folk festivals, featuring dancers, singers, and musicians at UC Berkeley, UCLA, and Loyola Marymount University. Athan directed his own Greek dance groups, including the "Intersection Greek Dancers" and "Dionysus."
He was an instructor of Greek dance and culture at Loyola Marymount University and the United States coordinator for Mazoxi, an annual dance conference held on the island of Crete. Athan produced numerous dance festivals and events in the United States and Canada and created ethnic folklore programs for the Southern California Heritage Society.
Athan was a member of the Dora Stratou Greek Dance Theatre and Foundation, a member of the Board of Directors for the AMAN Folk Ensemble, and an Advisor and Director of the Folk Dance Programs for the California Traditional Musical Society (CTMS). He also founded and served as Director of the Laografia International Greek Folklore Society, was a Cultural Consultant for the Greek Heritage Society of Southern California, a Member of the LA Cultural Arts Committee, Founder/Director of the International Greek Folklore Society, and member of Actors Equity, AFTRA, and SAG.
Athan was constantly on the go between television and his many film engagements (you can see him leading the Greek dancing in the made-for-TV movie "Star Maker," for example), as well as appearing on Broadway. Athan was a member of the Screen Actors Guild (SAG) and had more than twenty-five years experience in theatre, film, and television. He had the lead role of Yanni Martakis (and credit as Choreographer) in the acclaimed 1957 black-and-white film noir "Dark Odyssey" (in one scene he dances a beautiful Levendika Tsamiko with a sword), which is now available on DVD.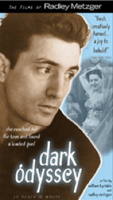 Athan received many awards. He was a lifetime member of The Hellenic University Club of Southern California, which recognized him for his contributions to Greek Culture and Heritage. He was named Man of the Year at the Levendia Conference, a Greek Folk Festival in Tarpon Springs, Florida. He received the 2001 Patriarch Athenagoras I Humanitarian Award, the highest award given by the Greek Orthodox Folk Dance Festival of the Western Diocese. He also was honored with the Lifetime Achievement Award of the California Traditional Musical Society (CTMS).
As an entrepreneur, Athan brought the Parthenon Dancers of Greece to the United States and Canada for several tours. He took groups to Greece to visit dance festivals and ancient sites.
On March 3, 2007, his friends presented A Musical Tribute to Athan Karras as a vital member of the Greek American Community in Los Angeles at the St. Roberts Hall, Loyola Marymount University. The evening consisted of a musical program and live music for dancing.
Athan produced several outstanding recordings of Greek folk dance music that include the regional sounds of the mountains and the islands. He was featured in a multicultural video produced by Human Kinetics and produced an instructional video, Learn Dances with Athan Karras, that details steps and styling of Greek regional dances.
Athan died peacefully in Tarzana, California, on February 12, 2010, of complications from coronary bypass surgery. He is survived by his wife, Jeanne, and children Chloe, Eleni, and George, and brother Gus. He was 82.
Among Athan's CDs, videos, and other publications are
Dance Songs of Greece. Basic and popular Greek dances.
"Did You Say Dance?." Article. The Hellenic Journal, July 2002.
Greek Dances with Athan Karras. Video. Several dances, variations.
"Greek Traditions in Music and Dance." Article.
Learn Greek Dances. Video. Basic Greek dances for beginners.
More Dance Songs of Greece. Popular Greek folk dances.
Songs of Greece. The Intersection, c. 1960.
Spirit of Greek Dance. Travel through Greece.
Traditional Greek Dances. A collection by Athan Karras.
Some of the television appearances Athan made were:
Combat
Death Valley Days
Divorce Court
Empire
Garrison's Guerillas
General Hospital
Knot's Landing
Purification of T.S. Williams
Run for Your Life
Skyjack-Hijack
Superior Court
T.H.E. Cat
The Labyrinth
The Telly Savalas Special
The Young and Restless
Thornbirds
Volpone
Voyage to the Bottom of the Sea
Athan also appeared in movies. Some of those were:
Dark Odyssey
Nomads
Our Immigrant Heritage
Rednight
Sunnyside
Target
The Postman Always Rings Twice
Zeus-Crime Killer
His stage appearance included:
Caisar and Cleopatra
Deathwatch
Freedom or Death
Garden of Sweets
Golden Fleece
Ilya Darling
Loss of Roses
Most Happy Fella
Oedipus
Pal Joey
Peribanez Group
Rose Tattoo
Tis a Pity She's a Whore
Tonight, We Improvise
Zoo Story
Athan's education and other experience included:
Founder of the Greek Language Theater of Los Angeles; Directed and starred in Kapetan Mihalis by N. Kazantzankis
Greek Cultural Consultant and Technical Advisor for Film, TV, Commercials, and Stage Productions
Group Twenty Players (Repertory theater-actor/director) Wellesley, MA
Lead Dancer for the Dora Stratou Greek National Folk Ensemble
Musicals, Stock, and Concert Theater Off-Broadway
Narrator, Announcer, Master of Ceremonies, Voice Over, Dubbing and Lip Sync, Radio Drama, Audio, Commercials, Videocassette
New York University (Theater Arts), New York, NY
Promoted the North American tour of the National Folk Ensemble of Greece, the Parthenon Dancers
Researched Ancient Greek Drama: Guest lecturer at various universities and cultural centers
Researched and produced Greek Folk Music and videos
Studies with Lee Strasberg, Uta Hagen, Herbert Berghof, Lee Grant, Joseph Anthony
Dances Athan taught include Agiovasilitiko, Anatolitiko, Arvanitiko Kofto, Ballos, Dimitroula, Dodecanesian Sousta, Epirotiko Tsamiko, Fysouni, Gaida, Gaida Gidas, Gaitanaki, Hasapiko (Grigoro), Hiotiko, I Trata, Hasaposerviko, Hiotiko, Ikariotikos, Kalamatianos, Kamara, Kangeli, Karagouna, Karsilamas, Kastorianos, Kerkyreikos, Kofto Arvanitiko, Kritiko Syrto, Kykladitikos Syrtos, Laziko, Lefkaditikos, Lemonaki, Len Irthe Maes, Levendikos, Makedonikos Horos, Makrinitisa, Maleviziotiko, Mandinades, Mayia, Mermingas, Mihanikos, Nizamikos, Partalo, Pentozalis, Pera Ston Pera Kambo, Pilalitos, Pogonisios, Politiko Syrto, Pontiakos Dance 21, Simbethera, Soultana, Sousta, Sousta Rethimnis, Sta Tria, Syngathistos, Syngathistos Epirou, Syrtaki, Syrto, Syrto Kofto, Syrtos Silivrianos, Tai Tai, Trata, Tsamiko, Tsirigiotiko, Tsobanistiko, Vari Hasapiko, Zagorisios, Zagoritikos, Zeimbekiko, and Zonaradhikos.