---
---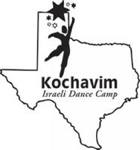 Website: https://www.kochavim.net/.
Information: Imagine an Israeli dance camp where master teachers offer quality dance material both classic and new, staff is warm, friendly, and involved, and dance party programming is based on requests.
Kochavim is held in April at the Camp Young Judaea (CYJ) Texas Retreats Center in Woodcreek, Texas in April.

---
This page © 2018 by Ron Houston.
Please do not copy any part of this page without including this copyright notice.
Please do not copy small portions out of context.
Please do not copy large portions without permission from Ron Houston.
---