---
---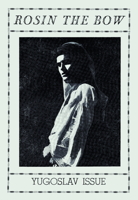 BACKGROUND
Information: A magazine.
Rosin the Bow was edited and produced by Rod La Farge from 1946 to 1957 and was preceded by the bulletin Ramapo Rangers.
Regular categories included such items as Ramblin's, This Month's Call, and Dance Directory.
---
ISSUES (click to view)
---
DOCUMENTS
---
This page © 2018 by Ron Houston.
Please do not copy any part of this page without including this copyright notice.
Please do not copy small portions out of context.
Please do not copy large portions without permission from Ron Houston.
---