---
---
THE ORGANIZATION
The Society of Folk Dance Historians (SFDH), a 501(c)(3) non-profit educational corporation founded in 1987, collects, preserves, and disseminates information about the history and practice of recreational international folk dancing (RIFD), an American social movement that originated in approximately 1894 and continues to this day. This movement not only preserves and reflects American cultural history, it occasionally contains the only surviving documentation of ethnic cultures that have vanished from their countries of origin, that is, the European Jewish, the Rom (Gypsy), the Western Armenian, the several Bosnian, the Assyrian, and the Kurdish cultures.
The SFDH library and archives comprise one of the largest such collections in the world and the only such collection maintained on a daily basis by and for folk dance historians.
---
THE STAFF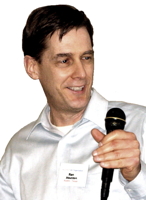 The two staff members of the Society of Folk Dance Historians are Dr. Ron Houston and Dr. Tatiana Nikolova-Houston. Ron researches, teaches, and writes about the history and practice of international folk dance when not working on his house and car. Tatiana helps Ron, especially with Bulgarian materials, when not designing illuminations of Slavic scribes by using gold and metallic inks and acrylic paints, embellished by Swarovski crystals.
The two permanent SDFH staff members hold Ph.D.s and certificates of specialization in archives and preservation from the School of Information of the University of Texas at Austin. They maintain an archive of sound recordings, publications, artifacts, and the papers of organizations and individuals involved with RIFD. The constantly increasing SFDH archives consist of tens of thousands of books and periodicals, hundreds of archival document cases containing approximately a thousand unbound documents each, and include dance descriptions, sound recordings, photographs, photographic negatives and slides, hundreds of video tapes and reels of cellulose acetate or polyester-based moving image files, and many artifacts such as musical instruments and costumes.
The employees of the SFDH use information from this collection to assist scholars and dancers around the world. The SFDH itself has sponsored and published, since 1987, annual collections of research reports drawn in large part from the information stored in the SFDH Archive. The SFDH distributes its publications to hundreds of member individuals and institutions each year. SFDH employees conduct educational and recreational seminars locally, nationwide, and abroad, drawing on information and recordings in the SDFH Archive.

---
A BRIEF HISTORY OF THE SFDH
In 1987, the SFDH was born to collect, preserve, and disseminate information about the history and practice of international folk dancing. Dancers and former dancers contributed hundreds of cubic feet of documents, publications, sound recordings, films, costumes, and musical instruments. Additional hundreds of individuals supported the Society through membership fees, the most outrageously low in the known universe. Scores of them contributed extra cash or services.
Tatiana suggested the Bulgarian Seminars, and five were held, varying from really successful to wildly successful in introducing dancers to the secrets of Bulgarian folk culture.
---
PUBLICATIONS
The SFDH produces three publications, all of which are excellent as well as useful.
The quarterly Report to Members grew from a one-page annual summation of activities to its present magazine format. Comments indicate that, even with the numerous obituaries, people really appreciate having news of one another.
The annual Folk Dance Phone Book and Group Directory filled a need as did the Report. It includes contact information about dancers, groups, teachers, dance callers, musicians, vendors, ensembles, camps, lecturers, institutes, other publications, and song teachers.
The annual publication The Folk Dance Problem Solver contains notes to forty or more poplular dances, plus an index of which issue you can find a specific dance.
---
MEMBERSHIP INFORMATION
You can support this worthwhile organization, and get the publications listed above by becoming a member. Contact them at the website, sfdh.us/members
---
GETTING LISTED IN THE DIRECTORY
To protect everyone's privacy, SFDH accepts written directory listings and memberships from addresses to which they have sent an application by postal mail. They will not sell or otherwise distribute any information sent to them. To get an application contact them through the website, sfdh.us.
---
ADDING TO THE COLLECTION
The SFDH always is interested in expanding its collection. If you have material related to recreational international folk dancing that you would like to donate, or should you wish to contribute information to the SFDH, please contact them through the website, sfdh.us/about.
They accept books, records, magazines, and newsletters, and also accept archives of groups and individuals: correspondence, scrapbooks, itineraries, receipts, photos, and the like.
---
FOLK DANCE ENCYCLOPEDIA
The Folk Dance Encyclopedia contains key information regarding many aspects of folk dance, including various dance and music tempos, specific dances, geographical regions, ethnic groups, and various historical figures. Many of the articles were written by Dr. Houston and touch upon topics encompassed by the Archives of the SFDH. Currently, there are over 14,000 articles in the Encyclopedia.
---
SEEKING ASSISTANCE
The SFDH is currently seeking assistance in transforming its static Folk Dance Encyclopedia into a dynamically managed Wiki.
Students and individuals in need of volunteer hours may also contact the SFDH and obtain approved hours performing data entry.
---
DOCUMENTS
---
This page © 2018 by Ron Houston.
Please do not copy any part of this page without including this copyright notice.
Please do not copy small portions out of context.
Please do not copy large portions without permission from Ron Houston.
---