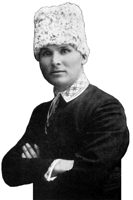 Information: A dance.
This Western Ukrainian dance is from the Eastern Carpathian Mountains which give us some of the most physically demanding dances in the world. Arkan is the quintessential men's dance, requiring strength, agility, stamina, and weapons waving, but not much analytical ability. Arkan is traditionally said to have derived from a Scythian dance honoring the sun god's daughters. I think this is questionabe. Ukrainian emigrants brought their dances to North America in the 20th century with encouragement from Soviets and Nazis. Some say the folk still do Arkan in areas where the Ukrainian Freedom Army is active and the Soviets discourage tourism.
North America folk dancers picked up and wrote down Arkan in the 1950's, primarily from Vasilľ Avramenko and Michael Herman. Although there is no fixed sequence of steps, the dance is divided into a first and second half with steps traditionally belonging to one half or the other. This is the dance as done in the Ukrainian foothills town of Kolomiya, but with a wider selection of highland and lowland steps. Note: pronounce all Ukrainian vowels as short vowels: ah, eh, ee, oh, ooh.
Translation: Lasso
Pronunciation: ar-KAHN
Other names: Arkon (sic), Arkan Kolomiyskiy
Region: Ukraine
Meter: 2/4
Formation: All sit around the dung fire, drinking, singing, and wenching.