Michel Cartier, from Montréal, Québec was instrumental in introducing folk dancers in the United States and Canada to Bulgarian dances in the 1950s. He was Yves Moreau's first teacher. He organized the "Folkmoot" Folk Dance Camps in Lake Stukely (in Mont-Oford Provincial Park, Québec).
Since 1975, Michel has been a communications professor at the Université du Québec à Montréal (UQAM).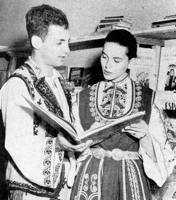 To left is a photo from the December, 1958 Viltis magazine, edited by Vyts Beliajus, that shows Michel and Marie Cartier in their library wearing the costumes they brought back from Romania.
Michel has been a consultant in Information and Communications Technologies (NICT) to various institutions in Europe and North America. He is the former founding director of Ensemble National des Feux-Follets, with wide experience in traditional and electronic television editing, direction, and formatting. Michel is the recipient of the Louis-Philippe Beaudoin Prize from the Institut des Arts graphiques and he has been decorated by the Commonwealth and the Mexican Government (Olympic Games choreographies), and by la Francophonie for his participation in research on the impact of NICT on French language and culture.
In 1997, Michel was appointed to the Montréal Arts Council.
Michel produced a long play field recording record titled "Rumanian Songs and Dances" on the Ethnic Folkways Library label (FE 4387).
Dances Michel taught include Brâul, Brâul lui Zbarcea, Canada Quadrille de Barachois, Dajčovo Horo(Zizaj Nane), Dobrudžanska Râčenica, Dodecanesian Ballos, Ekizlisko Horo, Gosti Vikaja, Jambolsko Pajduško Horo, Jianu, Jovano Jovanke, Kalamatianos, Kamišica, Karajosof, Kasapsko Horo, Katuše Mome, Kostensko Horo, La Cardeuse, La Patate Longue, Le Brise-Barriere, Nesiotiko Syrto, Nevestinsko Horo, Partalos, Râčenica from Dobrudja, Râčenica na Sryata, Râčenica po Troiki, Radomirska Râčenica, Severnyaški Daičovo, Sitno Šopsko Horo, Svatbarsko Horo, Svištovsko Pravo Horo, Tsamikos from Epirus, Zdroboleanca, and Zizaj Nane (Dajčovo Horo).