Steve was raised in the San Francisco area, moved to southern California after high school, and danced with the prestigious AMAN Folk Ensemble (aka, AMAN International Music and Dance Company) of Los Angeles, California. He also danced with Vince Evanchuk and his Ukrainian dance troupe, the Westwind Folk Ensemble, and the San Francisco Russian Dance Group, before becoming a dance major at the University of California at Los Angeles.
Meanwhile, he continued his study and teaching of Balkan and Central European dance culture. He made his first research trip to Hungary and former Yugoslavia in 1970. In the early 1970s, Steve traveled throughout Germany for seven years. He worked with ethnic communities in Munich, teaching international folk dance, performed and co-founded the performing group Gajda, while taking advantage of his proximity to Balkan and Eastern European countries to pursue his interest in the study and research of their dances. He also lived in Bukovina for a while learning local folklore.
Steve taught folk dance in Western Europe and organized workshops in Hungary, Macedonia, and Serbia. In the late 1970s, Steve returned to Hungary and studied with dance master, Timár Sándor, among others. It was during this time that Steve met his future wife.
Steve has since taught at every major North American festival and camp, often with his wife.
Their work continues to be an expression of their love and passion for dance, finding time to teach dance to children K-12 in New York City area public and private schools. Steve also serves as a consultant to several Hungarian folk ensembles.
Most recently, Steve has been researching Albanian and Roma dance from the Diaspora and continues his work and research in Balkan and Central European countries. He is particularly interested in dance culture as it has evolved since the "fall of the Wall" in these countries.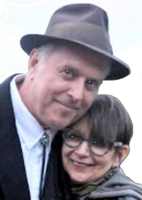 Susan "Susy" Snyder-Kotansky studied ballet as a young child and has been dancing ever since. As a young adult she danced with the George Tomov Folk Ensemble, Hungaria, and the Hungarian dance troupe, Hungaresca. Her passion for Hungarian dance and music led her to a dance seminar in Sarospatak in northern Hungary. There she met master teacher, Timár Sándor, who had a large role in initiating the Táncház movement.
Inspired by the organic method of teaching dance that he espoused, Susy returned to spend a year studying with Timár at the Folk Dance Section of the Ballet Institute in Budapest and the Bartok Ensemble of which he was the director. At the same time she made many research trips in Hungary and Transylvania. During this time, Susy met her future husband, Stephen Kotansky, and together they brought the Táncház style of teaching to New York City.
They created and co-directed the Guzsaly Ensemble while teaching weekly classes. They invited master teachers Zoltan Zsuráfszky, Zoltán "Batyu" Farkas, and Ferenc Sára to choreograph and teach their ensemble. In addition, Steve and Susy took many trips to Hungary for the purpose of studying and learning dance. Susy has co-taught couple dances with Steve at many folk dance camps.
Steve and Susy have two children, Jesse and Maya.