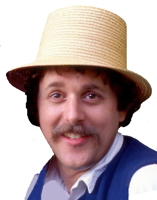 Information: A dance.
The dance is Steve Kotansky's arrangement to fit this popular song.
Translation: A girl's name, Maro and Marinë
Pronunciation: moy MAHR-oh, moy MAHR-ee-neh
Other name: Moj Marinë, Moj Maro
Region: These are traditional dance steps and forms from the Kolonje region of Southern Albania.
Meter: 6/8
Formation: Line or broken circle with a close hand and forearm hand hold.
Steps and Style: Generally, the forward steps move more to the right, while the backward steps move out from the centre, so that the circle moves to the right.
Moj Maro, moj Marin has a swaying effect in keeping with the music, so that the whole line sways forward and back together when they're in sync.

–Jeremy Hull, Winnipeg