---
---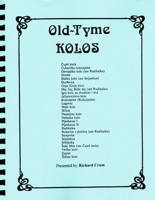 BACKGROUND
Information: A book.
Old-Tyme Kolos, Richard Crum, Los Angeles: 1993 Tamburitza Extravaganza, 1993.
These are a few dances done in the Croatian and Serbian communities of the eastern United States over a half-century period, from the beginnings of the "great economic immigration" in 1890 up to the "kolo revival" of the 1950's. The center of the revival was Pittsburgh, Pennsylvania – appropriately so, since that city was a long-time American stopping point for the early immigrants, and the headquarters of both the great United States and Croatian organization. The number of the old-time (pre-1950) kolos was not large – a few dozen – but they formed a sentimantal base-rock upon which kolo dancing later evolved. Their survival depended as much upon dedicated, kolo-loving tamburaši as it did upon the dancers.
---
CONTENTS
Čuješ mala
Čukaričko kokonješte
Devojačko kolo (see Radikalka)
Drmeš
Djačko kolo (see Seljančica)
Djurdjevka
Goja (Goja ples)
Haj, haj, Bože daj (see Radikalka)
Igra kolo na dvadeset i dva
Kokonješte (Kukunješće)
Logovac
Malo kolo
Milica
Natilijino kolo
Nebesko kolo
Pljeskavac I
Plejeskavac II
Radikalka
Rukavice s prstima (see Radikalka)
Sarajevka
Seljančica
Srbijanka
Šušu Mile (see Čuješ mala)
Veliko kolo
Zaplet
---
DOCUMENTS
---
This page © 2018 by Ron Houston.
Please do not copy any part of this page without including this copyright notice.
Please do not copy small portions out of context.
Please do not copy large portions without permission from Ron Houston.
---