The Poles, for the purposes of Rosin the Bow magazine, are the Slavonic peoples included in the territory mapped as Poland at the start of World War II. (This note is to keep anthropologists and politicians out of my hair!) The Polish people have played a larger part in the making of America than most people realize, and in spite of this, have received perhaps the least historical notice of any of the major nationality groups.
Recommended reading for those who wish to achieve a better understanding of Polish life and customs should include "Poland the Unexplored," by Grace Humphrey (who died in the London Blitz), and by all means, what is probably the most famous and popular of all Polish novels, "The Peasants," by Reymont. (English translation by A.A. Knopf Co. 1924). There are four volumes: Autumn, Winter, Spring, and Summer. From many of my Polish friends I understand it is by far the best insight into Polish life.
Other informative novels are "Homo Sapiens," by Stanisł Przybyszewski, translated from the Polish of the well-known Eliza Orzesko by M. Ochenkowska (A. Melrose, London 1912) and "The Argonauts," also by Orzeszko, translated by J. Curtin (Scribner's Sons 1901). All of these are available at Public Libraries.
There is a wealth of material about Polish folklore in past issues of a few magazines, namely The National Geographic, Travel, and if you are fortunate enough to read the language, Jaskółka.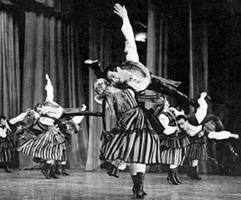 Poland has perhaps the most varied and brilliant of all peasant costumes. The Hyperion Press (Paris) printed a book of national costumes that included ten plates of Polish costumes. They are excellent for framing. A portfolio of Polish Folk Dances, songs, and twenty color plates, printed by Maxwell, Love & Co. Ltd, London, is an excellent buy for folk dance enthusiasts.
"Tańce Śląskie" and "Wiązanka" are two books containing descriptions (in Polish) and music for a number of folk dances (scarce items!).
Most people appear to believe that the Pole's favorite dance is the Polka, but at most Polish affairs they play two Obereks to every Polka. (They look somewhat alike to non-dancers.) Folk dances practiced by dance groups include the Krakowiak, Kujawiak, Gąsior, Kokotek, Mazur, Zbójecki, Trojak, Lipka, Owczarek, Druciorz, Grozóny, etc. There are only a few other Polish dances scattered through a number of general folk dance books.
Well-known Polish dance groups have included the Tatra Mountaineer Alliance, The Polish Folk Art and Dance Group (New York), the Polish Workmen's Aid Fund youth groups, and The Polish Folk Dance Circle (New York). Some real Tatra Mountaineer and other dances can be seen in the Polish movie "Halka" which is a perennial favorite in Polish movie houses as is the opera which is revived occasionally.
Popular Polish dishes are nalésniki (a filled pancake), pierogi (similar to Italian ravioli), gołąbki (stuffed cabbage), krust (a pastry), babka (Easter bread), kielbasa (sausage), bigos (saurkraut), and barszcz (sour cream soup).