---



The Society of Folk Dance Historians (SFDH)

Vranjanka
and other Jugoslav Songs and Dances
by Dick Crum

[ Home | About | Encyclopedia |
| Publications | Members ]

CLICK AN IMAGE TO ENLARGE



---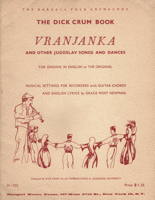 BACKGROUND
Information: A book.
Vranjanka and other Jugoslav Songs and Dances collected by Dick Crum for the Tamburitzans of Duquesne University.
A book of 23 songs in English and original lyrics including notations for recorders with guitar chords published as part of The Hargail Folk Anthology.
English lyrics by Grace West Newman, New York: Hargail Music Press, 1958, 1964

---
CONTENTS
Forward
A Word About Rhythms
Pronunciation of South Slavic Languages
Table of Contents


Sva Nok le Nado (Night Long), Macedonia
Poskakuša (Hopping Dances), Bosnia
Kriči, Kriči, Tiček (Whistle, Little Birdie), Croatia
Kalja, Kaljino (Kalja, Little Kalja), Macedonia
Gor Č Izaro (Boyond the Lake, My Home), Slovenia
Koleda (Christmas Song), Croatia
Makazice (Little Scissors), Serbia
Oro se Vije (Dancing the Oro), Macedonia
Ajd' d' Idemo, Rado (Come with Me, Dear Rada), Serbia
Vranjanka – [Šano Dušo] (Woman from the Town of Vranja), Serbia
Igra kolo (Round Dance Game), Croatia
Ersko kolo (Peasant Dance), Serbia
Kosci Kose (Swinging Scythes), Croatia
Staro Sito i Korito (Old Tub and Ancient Sieve), Croatia
Razgranjala Grana Jorgovana (Branch of Lilac), Serbia
Ćiro (Ciro), Croatia
Drma Mi se Kabanica (My Raincoat is Shaking), Croatia
Ruse Kose, Curo, Imaš (Black as Jet Your Raven Hair Girl), Serbia
Vehni, Vehni Fijolica (Whither, Lovely Love), Croatia
Ovce Ćuva Mara Kraj Morave (Mara by the Morava), Serbia
Gee Ceš Biti, Lepa Jejo? (Lovely Keja), Bosnia and Serbia
Ajde, Dušo, da Ašikujemo (Let's Make Love), Bosnia
Šetnja (Walking Dance), Serbia
---
DOCUMENTS
---
This page © 2018 by Ron Houston.
Please do not copy any part of this page without including this copyright notice.
Please do not copy small portions out of context.
Please do not copy large portions without permission from Ron Houston.
---