---
---
BACKGROUND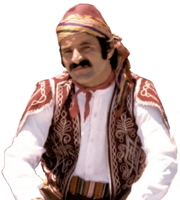 Information: A dance.
Pronunciation: AH-lee PAH-shah
Translation: General Ali
Other Names: Ali Pasha, Arpa Ektim
Region: Turkey

---
DOCUMENTS
Ali Pasha, article about several historical figures bearing this name.
Folk Dance Problem Solver (1987), Society of Folk Dance Historians (SFDH), San Antonio, TX. Ali Paşa.
---
REFERENCES
Dance description and lyrics: Özkök, Bora, Ali Paşa, 1972, on BOZ-OK Records 102. "Dance from Western Turkey – authentic Turkish steps arranged by Bora Özkök" and danced to a modern folk-pop tune by the well-known Turkish group Hur-El (?)
Lyrics: MIT Folk Dance Club Songbook, Ali Paşa.
---
DOCUMENTS
---
This page © 2018 by Ron Houston.
Please do not copy any part of this page without including this copyright notice.
Please do not copy small portions out of context.
Please do not copy large portions without permission from Ron Houston.
---