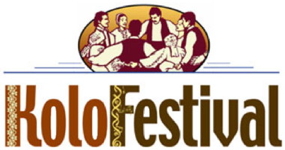 Website: https://kolofestival.org/.
Information: A Balkan and international Folk Dance camp (1951-present).
A folk dance camp founded by John Filcich. In 1971, the Kolo Festival was held as a fund raiser for Vyts Beliajus who was ill.
Bob Shinn became a co-director with John, then Jerry Duke became director, followed by Bill Cope.
The Kolo Festival changed its name to the California Kolo Festival and then back to Kolo Festival and then, in 2021, the John Filcich Kolo Festival. It is held in San Francisco annually and features the best in Kolo performances from the Bay Area and from afar.
The John Filcich Kolo Festival is a celebration of dance styles made popular by the various cultures of the Balkan region of Europe and offers music, dancing, singing, food, and crafts.
The camp is usually held at the Croatian American Cultural Center in San Francisco, California in November.